St. Louis Strings has one of the largest selection of string instruments in the Midwest. We are proud to feature KRUTZ Strings and antique string instruments with historic backgrounds.
KRUTZ is now the only shop in the world creating instruments on a professional level with a richly imbued voice ... The Voice Of Strings... existing within each instrument.

KRUTZ Violins, Violas, Cellos and Basses are of a superior value that meets the needs of students, amateur players and professionals. We feel that these instruments offer the best performance for the cost at every price level.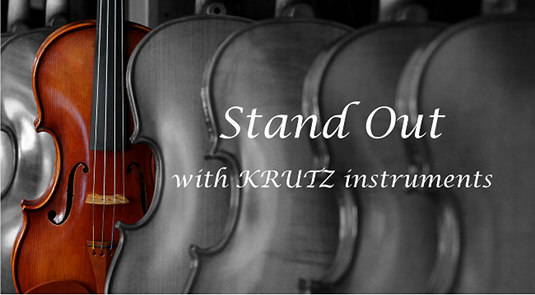 KRUTZ Instruments are played in orchestras around the world!
• New York Philharmonic • Boston Symphony Orchestra • Indianapolis Symphony Orchestra • Kansas City Symphony • Virginia Symphony Orchestra • Moscow Philharmonic Orchestra • Kaohsiung Symphony Orchestra or Taiwan • Arkansas Symphony Orchestra • Los Angeles Philharmonic • North Carolina Symphony • Israel Philharmonic Orchestra  • Among Dozens More.
KRUTZ has uniquely developed four lines of instruments
with each group building upon the features of the prior group.



KRUTZ Series instruments raise the bar for student level instruments. They are carefully constructed to our specifications in our affiliated shop in Beijing and all set-up in our Kansas City workshop. KRUTZ craftsmen travel there regularly to control quality. This ensures a fine appearance, warm sound and easy playability, even in fractional sizes. Upon arrival at our Kansas City workshop, they are given a professional set-up by our craftsmen. KRUTZ Series instruments produce a higher tonal quality at a more competitive price.

To learn more, choose your instrument: Violin, Viola, Cello, or Bass.



KRUTZ Artisan 700 instruments are partially crafted in our affiliated private shop in Beijing from Asian wood and the Artisan 750 instruments are partially crafted at our affiliated private shop in Romania from European wood. These instruments are shipped to our Kansas City workshop rough and unfinished, where professional craftsmen do extensive finish work on them. The instruments are graduated, fitted with an advanced bassbar and varnished. KRUTZ Artisan have greater projection and tonal resonance, suitable for advancing students and amateur adult players.

To learn more, choose your instrument: Violin, Viola, Cello, or Bass.


KRUTZ Avant instruments are crafted entirely in our Kansas City workshop by senior luthiers, many of whom learned the art of string instrument construction in Europe. All aspects of the making process are overseen by Anton Krutz. We hand select every single piece of European and American maple and spruce used to make these instruments. The wood is then aged for five to ten years before the instrument crafting begins. Anton's own proprietary sealer and varnish are used. These instruments are then given a professional set-up by the craftsmen in our shop. KRUTZ Avant instruments utilize fully professional materials and precise specifications, which give them the strong sound and tonal flexibility desired by advanced students and rising professionals.

To learn more, choose your instrument: Violin, Viola, Cello, or Bass.



Anton Krutz signature instruments are crafted by luthier Anton Krutz, bringing together the best in materials, design and construction. Beginning with his selection of acoustically vibrant curly maple and spruce from carefully aged stock, his craftsmanship includes precise arching and graduations, and a unique mineral ground and varnish treatment that gives each instrument its timbre and Bel Canto voice, similar to that of the fine Italian masters. Anton Krutz signature instruments are meticulously crafted to create the powerful, expressive sound sought by soloists and professional ensemble players throughout the U.S. and Europe.

To learn more, choose your instrument: Violin, Viola, Cello, or Bass.


Listen to The Voice of Strings:
St. Louis Strings wants you to know that we don't just sell instruments.
We build relationships and take seriously a commitment to customer satisfaction.
Please call (314) 644-6999 or contact us so that we can guide you in the process
of finding an instrument with the appearance and tonal character that you are looking for.
Reviews from Happy Clients!

Rating 5 out of 5!
"St. Louis Strings is amazing! All of the employees are very friendly, knowledgeable, and helpful. We have bought several bows, rented instruments, and had major repairs done here and each time I have been very satisfied by their amazing service!"
Violin Repair - Rating 5 out of 5!

"I took my violin here and had a wonderful experience! I hadn't had my violin serviced in about 10 years, and it was in need of some work. I took it in for repair at St. Louis Strings and the luthiers looked it over, carefully assessing it for what repairs would be needed. They gave it new strings, a new bridge, and a new sound post. They even filled in a small chip in the finish! My violin went from sounding tinny to having the rich and deep tone that it had when I first purchased it. The luthiers did a wonderful job! I will definitely be taking my violin here any time that I need a repair in the future! Highly recommend!"
Rachel Kuzma
Rating 5 out of 5
"We have purchased 2 cellos from this shop and they have quality instruments with varying price ranges. They are always very helpful and friendly, and their customer service is outstanding! We drive from Indiana to come there and it is well worth it."
Candace Stock
Krutz Violin V445 - Rating 5 out of 5!

"The Krutz Company delivers exceptional value with their instruments.
The violin are stunning, and I've had nothing but positive experiences working with them!"
Allen Wong
KRUTZ 100 Cello - Rating 5 out of 5!

"After playing cello a number of years ago in college, I recently decided to rekindle my old passion and seek out a good quality student instrument to further pursue my interest. After perusing and playing many different makes of cellos out on the market today, I was immediately attracted to the KRUTZ 100 series, C410 model. The quality and tone was impeccable, and the price/value was excellent. I must also mention that the amazing service I received at St. Louis Strings was second to none. Thank you Anton for making such a fine, affordable instrument, and special thanks to Alan and Shaun at St. Louis strings for their terrific customer care."
Michael R. Johnson,
Computer-Aided-Designer and Musician
Artisan Viola - Rating: 5 out of 5!

"As a person in my late 30's taking on the uphill climb to learn a string instrument for the first time, I was pleased to find that right in my hometown was a well respected maker. I started out with a rental of a student instrument and was pleased with the sound and quality to start with. Later I decided to move up to an Artisan or Avant and the shop was accommodating in allowing me to take several back and try them out and later take my two favorite home and try them there. In the end it was the Artisan that spoke to me. It's resonance and rich tome was simply amazing to me and I was hooked. They worked with me to setup a payment schedule for the instrument and I'm continuing to learn and improve with an instrument that will serve me a lifetime. Don't assume a fine instrument is out of reach. These folks obviously love putting people together with their products and they will work with you to make it happen."
Kyle Crane
KRUTZ Instrument Reviews
"Dear Ben, Thank you for carefully choosing a nice violin for our daughter. Her teacher, Dr. Mia Wu, could not stop smiling at the craftsmanship of the miniature 1/16 version. She said she often sees fractionals that are usually toy like. The teacher commented that the careful packing and shipping of the violin was well done. Most importantly is that the violin arrived in fine playable condition and sounds very nice. Practice is a JOY! Thank you again for the time that you spent to find the correct violin and accessories. I like that KC Strings is solely a string shop and that a luthier examined the violin before shipment. It is refreshing to find knowledgeable staff and quality instruments under one roof. I look forward to working with you as our children grow in ability and as they need larger instruments. As for now, our daughter loves her little Krutz violin."
New Violin & Recital:

"Thank you so much for all your help with my recital! It made the day perfect.... and I love my new violin! Thank you!"
Amber Overman
2007 KRUTZ Artisan bass

"I love my bass! It is beautiful in appearance and in tone. I have had three bass one, I grew out of and the other one and the other one was lost in Hurricane Katrina. This one was by far the best bass that I have owned."
Sam Shreves
Why a Student Instrument from St. Louis Strings is a Better Value

"The most important aspect to buying a student instrument is where you are buying it." You have to get instruments from a "Violin shop" that has a many years longstanding reputation, references and trade-in policy. St. Louis Strings has all!
•Our many years in business lets you know the instruments we sell are high quality at good prices because professional musicians and their students are our clientele.
•Our selection of upper level instruments and the ability to trade-up to them is an even more important consideration than the initial student instrument purchase.

Many music stores (that sell kazoos to drums) and dubious internet sites that sell string instruments are risky. We've seen many people waste their money on these outlets. Because there are dozens of factories throughout the world, each produces different grades of instrument according to their own individual standards.
Therefore there is no way to do comparison shopping because the instrument's quality cannot be determined by looking at its description and pictures. Also, unlike brass or woodwinds, string instruments are not set up and ready to play at the factory. Unprofessional set up at the store they were first shipped to can make an instrument practically unplayable and can cost hundreds of dollars to be redone.
The knowledgeable experts at St. Louis Strings make sure there are high standards of quality for all our instruments. Top all that with the realization that you may be stuck with your instrument purchased somewhere else when it comes time to upgrade and it becomes clear why "The most important aspect to buying a student instrument is where you are buying it."


Full size instruments purchased at St. Louis Strings come with an up to 100% trade-in toward future instrument upgrades based on condition. We have one of the largest selections of instruments in the Midwest. So select the instrument in your price range and easily upgrade anytime.


•An instrument trade-in amount can only cover up to 30% of the new instrument purchase price.
•Process to get trade-in valuation:
a) Email a minimum of 4 pictures (front, side, back & scroll) to: info@stlstrings.com

b) Give a written description within the email of any damage that
    is known and/or visible.
c) Give us an estimated value of what you would like as a trade-in amount.
•We will email you back the estimated amount we will offer for the trade-in along with a confirmation number.
•Select a new instrument you would like to purchase online.
•After the new instrument is purchased it will be delivered to you along with a return FedEx label. Then you can mail your trade-in instrument back to St. Louis Strings in the same box.
•Once St. Louis Strings receives your instrument, we will confirm your instrument's value based on the physical condition matching your pictures and description. Then, St. Louis Strings will refund the trade-in amount on the credit card used to purchase the new instrument online.



A string instrument requires care and attention. It is crafted out of woods that expand and contract even hundreds of years after it was made. It is under pressure by the strings of many pounds per square inch and spends much of its life under the stress of vibration. Over the life of an instrument's normal use some changes will inevitably occur. Here are several recommendations for you to make your instrument's long life a little healthier.
I. TEMPERATURE AND HUMIDITY: Changes in temperature and humidity affect a string instrument. Avoid any sudden change. The instrument case inside only keeps the previous temperature and humidity for only a few minutes. Keep the instrument away from direct sunlight and away from air vents. In general, avoid any and all extremes in temperature and humidity. Do not leave instrument in the trunk of the car. Cold can make an instrument crack and heat causes the glue joints to come apart and varnish to soften. The general rule of thumb is: Don't leave your instrument in any area where you wouldn't leave a baby.
(a) Use a dampit type humidifier in the instrument during winter, or when it is in a dry region. This is especially important for basses or any instrument left in rooms that have no humidifiers. The dampit can be soaked in water for 10-20 seconds, squeeze out the excess water in a towel, and put the dampit back into the lower lobe of the f-hole. Do this when you feel the dampit has dried out. But always take the dampit out while playing.
(b) If transporting the instrument during the winter in a car then warm up the car before entering with the instrument. Remember, you have a coat the instrument does not. In hot weather, cool the car ahead of time.
II. VARNISH: Although the varnish looks hard and durable, it is not. Avoid touching the varnish at all. Fingerprints could leave permanent marks. Hold the instrument by the unvarnished neck and the bottom endbutton or endpin. Do not leave the instrument on a hard surface. Hard surfaces and sharp corners can scratch and chip the varnish. Do not let rosin build up on your instrument. Use a soft rag to clean the top before you put it away.
III. CRACKS AND OPENINGS: Despite your best efforts, cracks sometimes develop and/or the top or back pull away from the ribs. A crack is where the wood itself cracks. Anytime the wood parts just come unglued that's actually positive. When the back or top come unglued from the ribs, this is called an "open bout". This is positive because the plate was contracting or expanding and if it would not pull away from the ribs then there is a very good chance that the plate could have cracked. Bring your instrument in for repair as soon as possible if the wood cracks or becomes unglued. Neglecting cracks and openings can lead to far more serious problems.
IV. BRIDGES: Instruments swell and shrink depending on temperature and humidity. To maintain proper string height a shorter bridge may be required in summer than is required in the winter. Please bring your instrument in during these seasons so we can check the string height for you.
(a) The proper angle position of the bridge is one where it leans slightly back toward the tailpiece. As you tune the instrument, the thinner top part of the bridge always gets pulled forward (toward the fingerboard) while the thicker bottom part stays fitted to the top plate leaning back. This is what causes the bridge to warp. So periodically check the angle position of the bridge and pull the top part back so it is straight and leaning correctly. We can show you this procedure in the shop.
(b) Lubricate the string notches in the bridge by marking with a pencil in the grooves. This will let the string glide over the bridge easier while being tuned and bridge and therefore minimize bridge movement.
V. SOUND-POST: The sound-post is the small dowel of wood inside the violin near the treble foot of the bridge. The sound-post controls a lot of your instruments sound quality, balance, and projection. If your instrument is having trouble in these areas, it is probable that we can help it with a sound-post adjustment. Also, the swelling and shrinking of the plates sometimes necessitates a new sound-post. We check the sound-post placement and tension whenever we check over the instrument while its in the shop for any work.
VI. FINGERBOARD AND NUT: Lubricate the nut grooves in the same way as the bridge notches. Fingerboards develop bumps and grooves from string usage above them, finger wear and just general movement from the affects of weather. These can be smoothed out in our shop with planes, files and sandpaper. We call this "finger board dressing". If the strings wear far enough into the nut, the open strings will buzz, at which point we will raise or replace the nut.
VII. STRINGS: Change the strings at least once per year. Even with little sign of wear the string may be vibrationally worn out and not responding properly. Strings also break, and usually at the most inconvenient time. It is a good idea to have a spare set with you at a concert or a recital.
VIII. PEGS: Pegs hold by pure friction. Extreme dry and humid weather both can make pegs sticky. Lubricate the pegs with peg dope when they stop turning well. On the flip side if pegs start turning to easy then use blackboard chalk to make the pegs hold firmer.
INSURANCE NOTE: Insure your instrument immediately after purchasing it. Check with your agent about the policy as to what is and is not covered. Insurance policies differ dramatically on this. For instance many insurance companies do not cover theft or damage to an instrument in an unattended car.

Keep in touch and follow us online!